After 4 months in Abbotsford...
by Savoera
(Abbotsford, BC)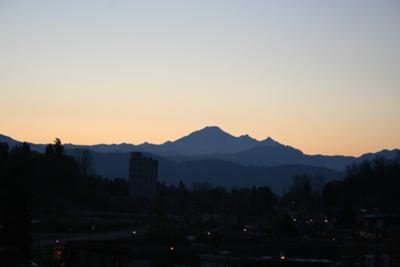 Breaking Dawn in Abbotsford
January 18, 2012

More than 4 months have passed since I moved to Abbotsford, and I'm still jobless, and my husband is still in Saskatoon. He came to visit in November and he's coming to visit again soon, but it's no fun when he leaves again... It leaves us both (and our daughters as well) feeling empty, incomplete, and we have to go through that process of adjusting again without each other. For him it's worse, because he has to go back to an empty house.

In the meantime I have started taking a computer course at the UFV to brush up my basic MS Office skills, and learn more about the 2010 version. I have also been attending some workshops at the employment centre and I'm hoping all of this will help me land a great job where I can feel good about myself.

Even though Fall was a little depressing with all the rainy days, the Fall colours were beautiful, and whenever the sun would come out, the city's scenic views would take my breath away! (On a sunny or less cloudy day, whenever the mountains are visible, I always find myself distracted by them while driving... My eyes keep lovingly scanning the mountainous horizon and adoring the snow-capped Mt. Baker and other snowy peaks... But not to worry, I still focus on my driving, I just take peeks at all the glory whenever possible.) Even the migrating Canada Geese were quite a sight to behold in the Fall!

Winter here is much more acceptable than it was in Saskatoon! However, the past couple of days we have been hit by a blast of snow and cold temperatures, but the fun part is, the kids also get snow days here! Not since Atlanta have we had those. It took a blizzard in Saskatoon before the schools finally decided to close down for the day... but only after being open for a couple of hours. That was some adventure! I'll never forget that chaotic day! I thought either Canadians were crazy or I was being a wimp for not wanting to take my kids to school that day. I dropped them off anyway, trying hard to adjust to "Canadian Winters" (our first in Canada, and we got this blizzard!), only to be called later by the school to go pick them up again. I promptly got stuck in the blasted snow, but thankfully someone else gave them a ride home... I admit that I'm a wimp when it comes to winter-driving, which is why I'm not complaining to be living amongst
other "wimps" in the Lower Mainland. :) In any case, the Valley looks beautiful with all the snow, and I appreciate it even more knowing that people here in the Lower Mainland are considerate and won't force you to bring your kids to school if it's really bad out there.
This past weekend I also experienced the beautiful moment of seeing Trumpeter Swans flying by!! I was sitting on the sofa watching a movie, but I happened to glance out the window... and sucked in my breath while my eyes popped out as I realized I saw a swan couple flying by! I screamed with excitement, jumped from the sofa and nearly threw myself at the window while a big grin spread across my face and I kept staring at the beautiful giant birds as they got farther away from me, heading in the direction of Sumas Prairie. I didn't realize that my eyes were wet until I automatically wiped away at them, and my daughter (older one) asked if I was crying... I felt really silly, hehe... But I had been waiting for this moment eagerly, and frankly I had given up hope of seeing them fly by. Shortly after that moment, while I was excitedly telling my husband about it over the phone, I saw another pair flying by, this time at a greater distance. I squealed again with joy. :)
I felt so happy for the rest of the day, and from then on I kept scanning the skies for more sightings. I can't be sure, but I think I have seen a few flocks flying by in V-formation in the distance, also heading towards the Sumas Prairie, but they could just as well have been Canada Geese, unless those don't come here in January. While standing at the window scanning the skies again the other day, I saw a big bird heading towards my building... I could tell by the size that it wasn't the regular seagulls I always see, but I couldn't figure out what kind of bird it was, until it flew overhead and I saw the white head, black body and white tail... It was a Bald Eagle soaring over my building! Wow! I just love BC!! :)
Even though I miss my husband a lot, and I'm still job hunting, I don't regret coming here! And I know that someday (soon, hopefully) everything will be fine and my dream will be complete. Looking forward to that day...
(For more about life in Abby, click on Abbotsford on the nav-bar on the left under Personal Journey.)