After 4 years in Abbotsford...
by Savoera
(Abbotsford, BC)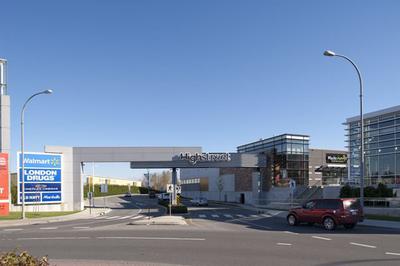 High Street Mall
January 31, 2015

Someone approached me through my Facebook page to ask for information about Abbotsford, and I realized that in the four years since I've been here, I've learned a lot more. So I decided to post all the information I provided to that person, as an update to my Abbotsford page here:

It's beautiful here, scenery-wise, with all the surrounding mountains; but the city itself is a little boring. It's a mixture of farmland and urban development (hence the slogan "City in the Country"), but depending on what you like, this might not bother you. I like the farmlands, but what is a thorn in my eyes is the downtown area. It's not really much of a downtown, it's more a historic downtown with older buildings and lots of homeless people. Montrose Ave looks nice though, with its quaint little shops. They often film here for TV movies (mostly Christmas movies: The Christmas Secret (2014); On Strike for Christmas (2010) and more).

I don't like shopping here that much, but I'm happy with the new big mall that opened in 2013 on the west side (High Street Mall), which also has a Cineplex theatre. Abbotsford is growing gradually (which is a good thing, because rapid growth would probably bring over-development). Thanks to the ALR (Agricultural Land Reserve) development is being kept in check. I like the smaller city size, although there are the few things I mentioned that bug me (infrastructure is another one of them), but I certainly wouldn't want this city to become another Vancouver. It is nice though, to have such a metropolitan city in just an hour's drive away from here for occasions when you want more big city amenities than what's available here.

Jobs in Abbotsford are not that easy to find (I'm still jobless). Housing here is reasonable I suppose, compared to bigger cities, but they're not that cheap either, especially if you're looking for newer homes. People are generally nice here.
There is a big Sikh community, which is the largest ethnic group here. Canada's oldest Sikh temple is in Abbotsford (it's a national historic site). The weather here is nice, I'd even say winters are ridiculous, it's more like fall that goes straight into spring. I do miss snow sometimes... it snows very little here. It rains quite a lot, but that keeps the Valley fresh and lush. Summers could get really hot. Overall I love it here, but I'm looking forward to this city becoming a little trendier in the future.
In the recent municipal elections (2014), homelessness, joblessness and debt were the 3 main issues in Abbotsford. Also, Abbotsford is considered the capital city of the Fraser Valley and it's the 5th largest municipality in Greater Vancouver and the largest in the Fraser Valley Regional District. The beautiful Mill Lake is in the heart of the city, and there are many other parks and trails around the city. If the city planners manage the growth of this city carefully, meaning finding solutions for the 3 main issues, developing better infrastructure, and creating better opportunities for a vibrant nightlife, then this city will be really attractive, and not just for the surrounding mountains, parks and trails.
Oh, another thing: the police department here did a great job turning the mostly gang related crime around. When I first arrived in 2011, Abbotsford was considered to be the murder capital of the country at that time (thanks to the notorious Bacon brothers). Within a year they managed to bring the number of murders down to 0! That's quite a feat! But in 2013 the city also earned the less pleasant award of being the 4th most boring city in all of Canada... Here's hoping that that too may change in the near future...
Some useful links about the possible future of Abbotsford:
Montrose Avenue: Abbotsford's one-time centre looks to reclaim its place
The End of the Strip Mall – Abbotsford
Abbotsforward