Canadian Citizenship:
Our Ceremony
So... the Canadian citizenship was recently granted to us! What a joyful day it was, on June 23, 2011. After five years as Permanent Residents, we are now officially Canadian citizens. We could have applied for the citizenship in 2009, but due to financial circumstances, we couldn't afford it, even though it's not that expensive. However, on February 12, 2010, the day that the Winter Olympics started in Vancouver, I submitted our applications, and a year later we got our invitation to the Canadian citizenship test, which was on May 11, 2011... exactly 5 years since we landed in Canada! We landed in Canada on May 11, 2006.
It feels absolutely great to be a Canadian citizen! Now I have the right to vote. There isn't much else I've gained in rights with the Canadian citizenship that I didn't have as a Permanent Resident... but it still feels good. Soon after becoming citizens, we applied for our Canadian passports and now we can travel around the world proudly as Canadians. We won't need to apply for a visa first before we travel to Europe, like we would have had to with our Surinamese passport. Basically, with a Canadian passport, the world is wide open for us to travel and explore... as long as we can come up with the money to pay for our travels, of course.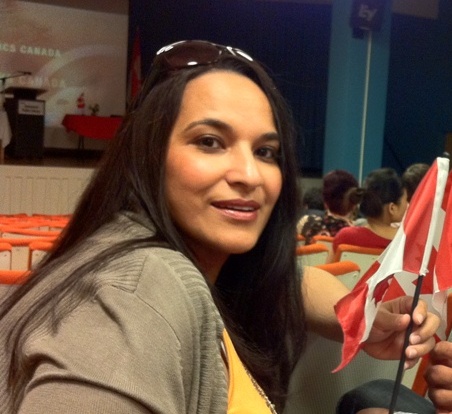 I'm most excited about being able to exercise my voting rights now that I'm a Canadian. Since our interview was in May, we missed our chance in the recent Federal Elections, which was held on May 2, 2011. Drats! But in the end I was happy with the results. Sorry, if this may upset some Canadians, but I do like Stephen Harper, and I'm glad he got his majority. :) Now I get to vote for the first time in the Federal Elections in about 4 to 5 years. As a citizen it's my responsibility to make an informed decision when I cast my vote, and not do so mindlessly, or worse, by entirely skipping this right/responsibility.
Speaking of responsibilities, since I am a citizen now, next time when I get a notice for jury duty, I will have to attend, unless there is a valid reason for not being able to, like when I was not a citizen yet. I received a notice somewhere in February, 2011, and I couldn't go, because I was still only a Permanent Resident. There are other responsibilities for citizens as well, which are basically the same as for non-citizens. I would say if you decide to adopt this country (or any other country for that matter) as your home country, or even as a temporary home, as a responsible resident, you should obey the laws of that country and contribute to the progress of the country, whether you're a citizen or not.

As a Canadian citizen I can choose to become a public servant, if I'm so inclined. If I have any political aspirations, I can become an MLA, an MP, a Mayor, a Premier, the Governor General... heck, even the Prime Minister, if I was that ambitious! ;) I can even opt to join the Canadian Forces; mind you, it's not compulsory to join the Canadian Forces once you become a Canadian citizen, but it's another way to serve this great country. If you want to pass your citizenship test, you better study the rights and responsibility section of the Study Guide well! :)
Part of our citizenship ceremony:
In the meantime I was so excited to celebrate my first Canada Day as a Canadian citizen, just a week after we got our citizenship! Of course we celebrated this day previously as Permanent Residents as well, but it was in a different spirit this time; there was a feeling of belonging now. We had a blast on July 1, 2011 as real Canadians! :)