Abbotsford, City in the Country
Why I Chose to Live in Abbotsford, B.C.
I moved to Abbotsford, British Columbia exactly one month ago yesterday, arriving here on August 31, 2011. While I was still living in Saskatoon, where I stayed for 5 years, I knew I would move to British Columbia one day, because I was longing to live in a nice city surrounded by mountains.
However, I was focusing on Vancouver at first. Then we visited Vancouver in summer 2007... I was shocked to see how densely populated this city was! I was quite disappointed... But the views were amazing! It was just a short visit, but I fell more in love with British Columbia.
To me it was Heaven on Earth! It really is the "Best Place on Earth"! At least, considering the breathtaking views... There are certain things I feel they could adopt from Saskatchewan, such as making healthcare insurance completely free (it appears I will have to pay a monthly premium here). But overall, BC is a blessing for those who appreciate majestic sceneries.
On our way back to Saskatoon during that short visit in 2007, we quickly peeked into Langley, which seemed like a nice city, but we continued on our way and then made a washroom (restroom) stop in Abbotsford...  
As soon as we entered from the first exit on the Trans Canada Hwy, I felt curiosity starting to build up in me about this city. I looked around, saw some mountains, but it must have been cloudy, because I didn't see Mt. Baker towering over the city, otherwise I most definitely would have been sold! I got a good feeling about the city, but we didn't have time to explore. From the little bit we saw I knew I wanted to explore more. And that's exactly what I did once we got back to Saskatoon.
I started researching about Abbotsford like a mad woman, on the Internet, asking around on forums, asking people who had either visited or knew someone who had lived there, etc. One friend, whose mom used to live there, told me that her mom moved back to Saskatoon, because she couldn't take the rainy days in Abbotsford. I didn't let that bog me down. I come from a tropical country... I can handle rain. It cleanses the earth. :)
I also learned that the air quality in the Fraser Valley is not the best, which concerned me a little, since I have two daughters who have mild asthma. Then again, they survived even worse air quality living in Atlanta. I learned about the high crime rate in Abbotsford, and that did scare me a bit. However, compared to the crime rate in Atlanta, and even in Saskatoon, it was not scary enough. :) And the crime rate has gone down quite a bit since my arrival here (no connection to my arrival, LOL!).
At one point I did shift my focus to Maple Ridge and Pitt Meadows, because I was looking for a place that was close enough for my daughter to go to a good Graphic Design college somewhere in or near Vancouver, but soon enough my attention returned to Abbotsford, mostly because of the University of the Fraser Valley and the Bachelor of Fine Arts program they offered.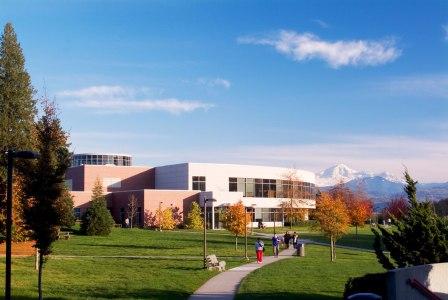 University of the Fraser Valley in Abby
From what I learned through my research, it is one of the best universities out there, as voted by its students. Of course the bigger universities in Vancouver (such as UBC and Simon Fraser University) are rating higher, but for my daughter it's the right university, because she would feel lost in a bigger campus. It offers a great Bachelor of Fine Arts program, and she can feel comfortable in the friendly atmosphere here. It's also surrounded by pristine mountain settings, and for a student who enjoys photography, this is an added bonus!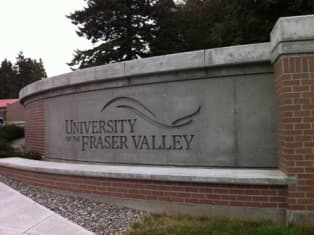 Entrance to UFV
For those who need some guidance and support, there is the ACS (Abbotsford Community Services), which is a community-based agency serving children, youth, families, and seniors of all personal, social, ethnic, and economic groups, including new immigrants who need help finding their way here.
Looking for a Secondary school (High school) for my second daughter, was a bigger challenge. She wanted to go to a school that offered Dance Academy in their curriculum, and finding one wasn't that easy. Then I found the Abbotsford Collegiate, now called Abbotsford Senior Secondary. It is one of the oldest Secondary schools in Abbotsford, which explains the (previously) unattractive old building that was built in the 50's (it opened its doors in September, 1956). However, the school is moving to a new building in the same location in 2012. 
Update: In September 2012, the school opened its doors to a brand new state-of-the-art building that also houses a community library and is a Neighbourhood Learning Centre.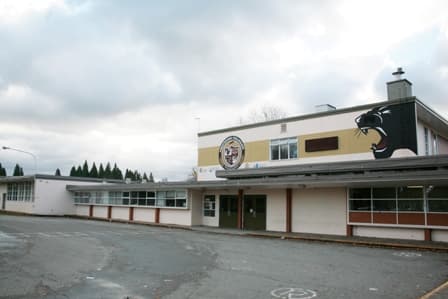 Abbotsford Collegiate
This building is going to be a Neighbourhood Learning Centre, which basically means a community hub. The school also offers the International Baccalaureate program, just in case my daughter wants to be ambitious... She aspires to be a veterinarian, so she might as well start getting used to studying hard. I have to admit, the old building put me off a bit, but I was comforted by the promise of a new building in 2012. My daughter doesn't mind the old building. What matters to her is making good friends. I agree.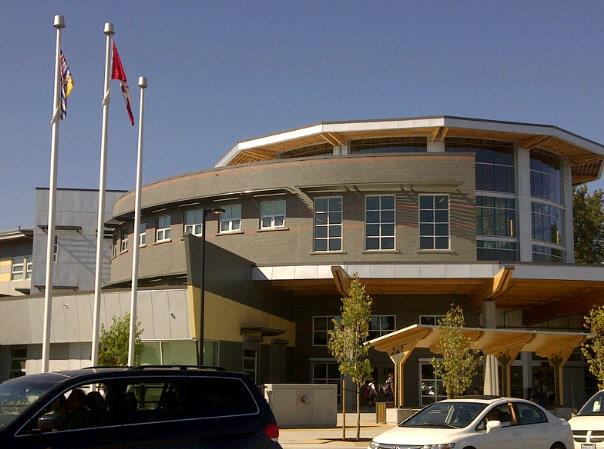 Now named Abbotsford Senior Secondary, the new building opened on September 4th, 2012
On the other hand, Yale Secondary also seemed like a good option, since I intend to settle in East Abbotsford eventually... Right now I live in the Downtown area, and though I enjoy the views from my balcony, I can't say I appreciate the noise from the streets. But it is fun to have shops all around me within walking distance. Mill Lake is a short walk away as well.
Here is a collection of photos around Abbotsford on my Facebook page.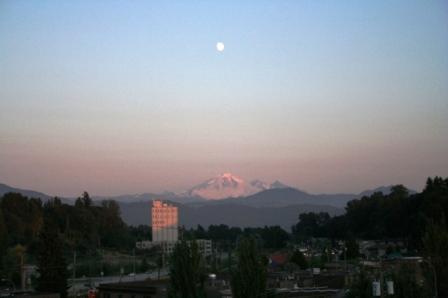 View from my balcony
Why did I choose to settle in Abbotsford, leaving behind the "Land of the Living Skies" for the "City in the Country"? I mentioned the UFV as one of the reasons, and the majestic mountain views as the major reason; I get plenty of mountain views with Mt. Baker to the east, and Golden Ears and the Coast Mountains to the north. But Abbotsford also attracted me, because of the cultural diversity here, and because it's growing rapidly and has the potential to grow into a beautiful, modern city offering great residential neighbourhoods as well as big city amenities, without the claustrophobic feel one gets in big cities like Vancouver.
If I wanted to go to a bigger city for shopping or entertainment, then Vancouver is only an hour's drive away. Abbotsford sits in the panoramic Fraser Valley and is surrounded by other beautiful cities and towns, with plenty of parks nearby if one wants something more than Mill Lake, such as Harrison Hot Springs, Cultus Lake, Golden Ears Provincial Park, etc. Even Whistler is not that far away, just about a two hours' drive.
As for the climate here, it's awesome! It's mostly mild, with just enough snow in the winter to keep me happy, and enough rain to avoid extreme hot temperatures, although there is the occasional heat wave, which I've already experienced upon arrival... But hey, I experienced the 2007 blizzard during my first winter in Saskatoon, so why not be welcomed by a heat wave in Abbotsford... Also, this past summer I have watched the Air Show in Saskatoon, but I missed the one in Abbotsford, where the country's largest Air Show is being held annually.   
I do hope to see Abbotsford adopt Saskatoon's way of city development, with a nice and lively Downtown offering great shopping and entertainment, and spread out shopping centres throughout fresh residential neighbourhoods; from the looks of it, that's exactly how it is developing. Abbotsford has quite a few new buildings, including  a new state-of-the-art regional hospital, a new Entertainment and Sports Centre, the new school/community hub coming up in 2012, a brand-new Odeon Cineplex also coming in 2012, etc.  
As for new residential neighbourhoods, Eagle Mountain is definitely a beautiful neighbourhood, but even the older homes in East Abbotsford look nice. I have yet to explore the western part of this city, which is growing as well. It's getting a new Walmart, and the Cineplex is being built there. Clearbrook library and the Civic Centre are nice buildings as well. I take my daughters to the Clearbrook library to get books instead of taking them to the one around the corner, because I have an aversion to old, smelly buildings, but fortunately the old library is also moving to the new Neighbourhood Learning Centre soon.

So there are mountains, lakes, parks, and the Pacific Ocean within a short drive; shopping centres and malls, excellent ethnic food, entertainment, a great university and excellent schools... what more can I want?
Wildlife... especially Swans! I haven't seen them yet, but I'm waiting with bated breath to be surprised by them as they fly overhead (which has happened in the meantime already). I have already sucked in my breath seeing Canada Geese flying in migration, almost distracting me in traffic! So glad to see them, too. I enjoyed seeing them in Saskatoon as well. But I'm still waiting for the swans... Where are they?!  As for other wildlife, such as deer, I'm sure they're around, probably in the quieter residential areas, but of course I won't see them in Downtown. I have seen warning signs for bears in the Eagle Mountain neighbourhood, and that kind of scares me. I don't want to have a bear encounter, brrr! 
So... My dream has come true, and I'm finally in British Columbia... But it's not complete yet. My husband is still in Saskatoon, since he didn't manage to get a job in Abbotsford yet. I still have to get a job here myself, and so far I haven't had any luck either. My husband made the sacrifice for us to come here while he stayed behind to support the family, and the situation is not ideal, of course; basically it stinks! Therefore our future in Abbotsford is a bit uncertain, because we can't live like this for too long. I miss my husband terribly, and he misses us even more. However, I refuse to give into despair, as I firmly believe in my own power of shaping my future. As I continue living in hope, I leave this page with the following quote that came to me in a moment of internal talk of encouragement (which I often engage in when I feel discouraged):
"Life is a string of illusions. We go through these illusions rather unaware of the fact that we created them ourselves at one point in time, either consciously or unconsciously. Why not start choosing the kind of illusions we want to experience, intentionally. Life will be better once we become aware of who is in charge of the direction it takes."
-Savoera
See More of Abbotsford
---
---
Want to follow my progress?
If you want to follow my progress in Abbotsford, and would like to comment on my updates, this is where you can do it. You are also invited to submit your own stories about Abbotsford or any other parts of BC.
Follow my updates
Click below to see what's new in Abbotsford since I arrived here, and to read the contributions from other visitors to this page...


Latest Update 2021: Husband is here since 2017!
I finally updated my website after leaving it dormant for nearly 7 years! I could have sworn that I had written an update about my husband, Sanjay, finally …
Feedback on Living in Abbotsford
Thank you so much for sharing this, my boyfriend and I have just found out that we may be moving to Abbotsford in the next month or so. I have been really …

Updates on Life in Abbotsford
January 18, 2012 More than 4 months have passed since I moved to Abbotsford, and I'm still jobless, and my husband is still in Saskatoon. He came to …