It's a sin not to visit Canada before my depature from Earth
by Sunday O
(Nigeria)
Since my childhood, Canada is my choice of country I wish to visit, and I wish to get legalized there with my family in the future.
Saskatoon, Saskatchewan, Canada
by Scarla Gould
(Saskatoon, SK)
My favourite place to live in Canada is Saskatoon. I grew up here, moved to Calgary, Alberta, straight out of high school, and am back here for good! Saskatoon is known as "the city of bridges", with the Saskatchewan River running right through the middle of it. The bridges are absolutely beautiful! Nothing beats a long walk down by the river any time of year. The summer mosquitoes are ridiculous, until the dragon fly population multiplies, eating all mosquitoes in sight, thus making summer bearable again! The winter snow is ridiculous, sometimes piled so high, you can't even reach the top!

Every year, our family takes a summer trip out to Victoria, British Columbia... Wow, what a beautiful place to visit! I told my husband I would move out there, just because there are no mosquitoes, plus, the plants and trees are amazing! They all look like they've been especially "wax-treated" or something!

So, here are a few reasons why I love living in Canada, eh?!
Canada is the future (I think)
by Heather Gittens
(Atlanta,Georgia,USA)
I currently live in Atlanta, Georgia and would like very much to move back North again (I used to live in NY/NJ). I visited Toronto and Montreal years ago and I must say that if it were left up to me and I had some money, I would move to Canada in a heartbeat. I understand that no country is perfect, but you go where your heart belongs. Once upon a time, I wanted to live in America (I'm originally from Trinidad, West Indies). Now that America doesn't feel like home anymore, I wish for something different. And Canada provides that balance that I like without the extremes: a little British and Europe mixed with USA and a dash of Trinidad. It may be younger than the USA and a shadow of the USA, but it's a progressive nation that is looking brighter for the 21st Century. I'm glad to say that my favorite celebrity, William Shatner, is from Montreal, Canada. Even though I haven't lived in your beautiful country, I'm inspired to move there.
Earthly Heaven
by Ilyas Masih
(Rawalpindi, Pakistan)
Yes, I want to live in, and enjoy this earthly heaven, but I'm not yet proceeding with immigration.
I love living in canada because...
I always know I am safe. I don't need to worry about war and such.
I also love that I can play in snow in winter and swim in summer.
Join in and write your own page! It's easy to do. How? Simply click here to return to Share Your "Living in Canada" Experience.
Canada Rocks!
by Sanjay
(Saskatoon, Canada)
To me, becoming a Canadian citizen means that I live in the best place in the world! I am free to travel all over the world and then come back to my beloved, beautiful Canada, which is now my home sweet home. My family and I are truly blessed to have become Canadian citizens. O Canada, my home and native land... I love you so!
Canada is the best country ever!
by Becca
(Canada)
It is such a nice country, the people and environment are just admirable. I love Canada. It is such a peaceful country, people are so friendly, the weather is amazing, we have so many government services as well.
Canada is amazing!!!
Join in and write your own page! It's easy to do. How? Simply click here to return to Share Your "Living in Canada" Experience.
Majestic future of Canada
by Shavina
(Vancouver, B.C.)
Sir Winston Churchill said: "There are no limits to the majestic future which lies before the mighty expanse of Canada with its virile, aspiring, cultured, and generous-hearted people." And I say Amen to that.

Did you know the light bulb and the telephone were Canadian inventions? Yes, it's true. Don't take my word for it, but do your own research and find out for yourself. So many great inventions have originated in Canada.

Go Canada! Land of Opportunity!
I Love Canada!
by Anonymous
I travel the world regularly, and Canada is by far the best. The pristine nature, nice people, and all-around beautiful country rank it number one on my list. The Holidays are really fun to celebrate, because it is so cold!
Canada's Top Shopping Hotspots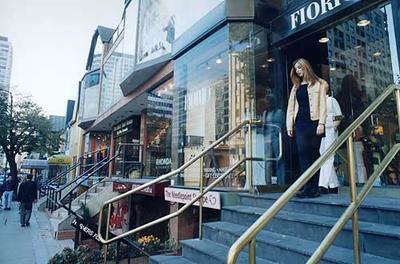 Yorkville, Toronto
A day of shopping should be more than tracking down the odd good store; it should be an all-round great experience. From one of the biggest malls in the world to eclectic boutiques, Canada boasts some of the best districts for shopaholics. Whether you are a local looking for new shopping pastures or a new visitor to Canada's beautiful cities and towns, this vibrant nation has spending outlets to suit everyone. Here are some great hotspots to note down for a later date.

Yorkville, Toronto:

Yorkville's shopping areas are sometimes compared to New York's Fifth Avenue or Los Angeles' Rodeo Drive. This high-market shopping district filled with boutiques and beauty salons is quietly nestled into the bustling city of Toronto. Shops which line the pristine area include Prada, Gucci, Armani Hair and Cosmetics and Harry Rosen. There are also less extravagant stores dotted around for more sensible spenders including Banana Republic and American Apparel.

West Edmonton Mall:

This vast mall in Alberta is more than just a shopping centre; it is a top quality entertainment complex, complete with restaurants, an ice-rink, a water park and an IMAX cinema. There is also a range of bars across the 5.3 million square foot complex for a day out which last from the morning till night. As an additional extra, the West Edmonton Mall is also accredited as a zoo!

Kelowna:

Perched on the edge of the Knox Mountain Park is the scenic town of Kelowna. A perfect place for an idyllic weekend getaway, many Kelowna hotels are rustic and beautiful to reflect the stunning natural landscapes. After trekking over rugged terrain and meandering along waterways, indulge in the areas malls and boutiques including the Orchard Park Shopping Centre and Towne Centre Mall. Many boutiques in Downtown Kelowna are filled with decorative pieces from local artists and its Cultural District has developed into a colourful hive of retail outlets, restaurants and galleries.

ByWard Market, Ottawa:

If you yearn for the sights and smells of a traditional market, the ByWard Market beside the Parliament Buildings in Ottawa is one of the oldest farmers markets in Canada. Anything and everything can be bought from its lines of stalls including food, jewellery, household goods and decorative pieces. The market can attract up to 50,000 enthusiastic shoppers on a warm summers day so it is recommended that you get there early!

Yaletown, Vancouver:

This town in western Canada has been transformed over the past few decades from a network of warehouses and train yards to one of the most fashionable areas in Vancouver. Yaletown is a hotspot for designer boutiques and galleries. Expect to see high-flyers and yuppies in this downtown area of Vancouver as you stroll through stores selling local and international brands.

Join in and write your own page! It's easy to do. How? Simply click here to return to Share Your "Living in Canada" Experience.
I do not like living in Canada
by Anonymous
I was born in Canada and remember nothing but suffering. I left Canada for 12 years and have now recently returned to a living nightmare. I arrived in Ottawa in -30 degree weather and had to take the bus system 2.5 hours each way to my new job at a Pre-school. I worked here for one week as the details arranged at the interview had slipped the employers mind i.e. a contract, 40 hours per week, and a wage of $19.00 per hour. I complained to the HRDC and my complaint disappeared into the abyss. I was earning $10.00 per hour in Canada almost 20 years ago and was at least able to have an apartment to myself...a basic human right. Now the wages for the jobs are still only $10.00-$12.00 per hour, however that same apartment is renting for $1000.00 PER month. Food is so expensive that it is a luxury. I want to so desperately have a stable life, live in my own home, and be able to buy my own food, instead of living on food-bank food.

Did I ask to be born into this type of life? Why do I not have a good paying job when I was always consistently the best student in class? A country where people can have the freedom to live as they choose, based on the merit of their hard work? In a training class I am currently in I received the top marks in the class exam, yet I was not chosen for the better jobs, but my neighbor who only received 80% was... a fair and democratic country? My eyes are full with unshed tears and I live each day in Canada without any happiness, hope, or future possibilities. I wished that I had never been born here.
Canada Day 2012 is around the corner...
by Savoera
(Abbotsford, B.C.)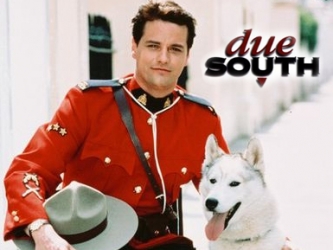 Fraser and Diefenbaker
...and HuffPost Canada is sharing their top 25 reasons of why Canada is so dearly loved! In the coming weeks they'll be collecting the best ones from their readers and posting them. Want to participate? Share your reasons at HuffPost Canada: http://www.huffingtonpost.ca/2012/06/12/25-reasons-why-canada-rocks_n_1590325.html?utm_hp_ref=canada&icid=maing-grid7|canada|dl1|sec1_lnk2%26pLid%3D169482

My reasons at the moment: the beautiful province of British Columbia, but mostly the adorable Mountie on Due South, Benton Fraser (Paul Gross)! ♥ ☺
Join in and write your own page! It's easy to do. How? Simply click here to return to Share Your "Living in Canada" Experience.