Canadian National Anthem and Symbols
The Canadian national anthem inspires patriotism in the proud citizens of this country. It was proclaimed the national anthem of Canada on July 1, 1980, exactly 100 years after it was first sung on June 24, 1880. The music was composed by Calixa Lavallée'  whereas the French lyrics to accompany the music were written by Sir Adolphe-Basile Routhier.
The song gradually became popular and many English versions have appeared over the years since then. Though the official lyrics of the English version was written in 1908 by Mr. Justice Robert Stanley Weir, changes were recommended in 1968 by a Special Joint Committee of the Senate and House of Commons. The French lyrics remain unaltered. Here is the full history of the Canadian National Anthem.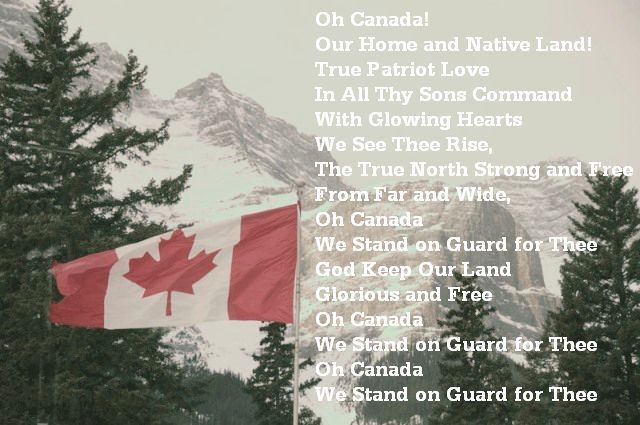 Here is a beautiful version of the Canadian national anthem on YouTube:
Important Canadian Symbols and Emblems
The Maple Leaf was referred to as the chosen emblem of Canada since 1848, but was formally adopted in 1860.

The Beaver, a major attraction in the past for explorers for its pelt, became an official emblem of Canada on March 24, 1975, when an "act to provide for the recognition of the beaver (castor canadensis) as a symbol of the sovereignty of Canada" received Royal assent.

A quote about the beaver: "The beaver, which has come to represent Canada as the eagle does the United States and the lion does Britain, is a flat-tailed, slow-witted, toothy rodent known to bite off its own testicles or to stand under its own falling trees." -June Callwood


Canadian Coat of Arms
Canadian Official Seal
Other well-known Canadian symbols are: West Coast totem poles, the RCMP Musical Ride, the birch-bark canoe, the Canada Goose, and the Schooner Bluenose
For more about Canada's symbols click here.
Here is a collage of Canadian symbols and other things that define Canada: